My second day in the city saw me some cool places that really engaged my inner child as well as educate my adult self about Polish culture both in the past and present.
The final day was about wrapping my itinerary up as much as possible. That included making sure I got some souvenirs to take back home to my close ones. Generally looking towards prepping for the journey back home to my same old life in London.
Started off the day with another gym session to get myself pumped up and in good physical and mental shape for my last 12 hours or so of sightseeing.
Attraction Watch
Lazienski Park
I finally got around to Lazienski Park and let me start off by saying it is bloody humongous. It is very much Warsaw's answer to Hyde Park in London or Central Park in New York. At first I passed through it the day before around sunset and was quiet and getting late so thought I'd pop around the following day at an earlier time.
The park was much busier on the Sunday afternoon and you know what it felt like a summers day. The weather was very warm for the time of the year so everyone were in good vibes wearing only t-shirts and vests over them. There were queues at stalls to get refreshments, chilling on the benches and grass, people taking selfies and doing mini photo shoots with leaves. I Guess you gotta get them autumnal shots before autumn truly sets in and the leaves start disappearing. I never expected any of this in all honesty Everyone was in good spirits
I like how there are lots of benches and open space so you can just chill, take in the nature and atmosphere around you. Canals and rivers are around in abundance in the park and people can tour around on them via boats.
PGE Narodowy
As a Football fan my time sightseeing wouldn't be as personally gratifying if I didn't take myself to visit a Football stadium that was within Warsaw. The PGE Narodowy is the Football ground for the Polish national team and is normally where their home international matches are played. Matches at European level have also been hosted by the stadium, including the opening match of the UEFA Euro 2012 tournament and 2015 UEFA Europa League Final.
For anyone wanting a rough comparison with regards to hospitality venues, it's to Poland what the Wembley stadium is to England, the Amsterdam ArenA in Holland or the San Siro in Italy (at a stretch!). It being the largest Football stadium in the whole country being able to accommodate over 58,000 people. Many events outside of Football such as live concerts and gigs are held in this very stadium. It was a shame I couldn't get any closer to the stadium than I could. There are stewards stationed around the concourse area and You need a ticket to actually access that area let alone access in the stadium.
The stadium's architecture however does well to catch your eye. Especially if you're passing by it on tram or bus.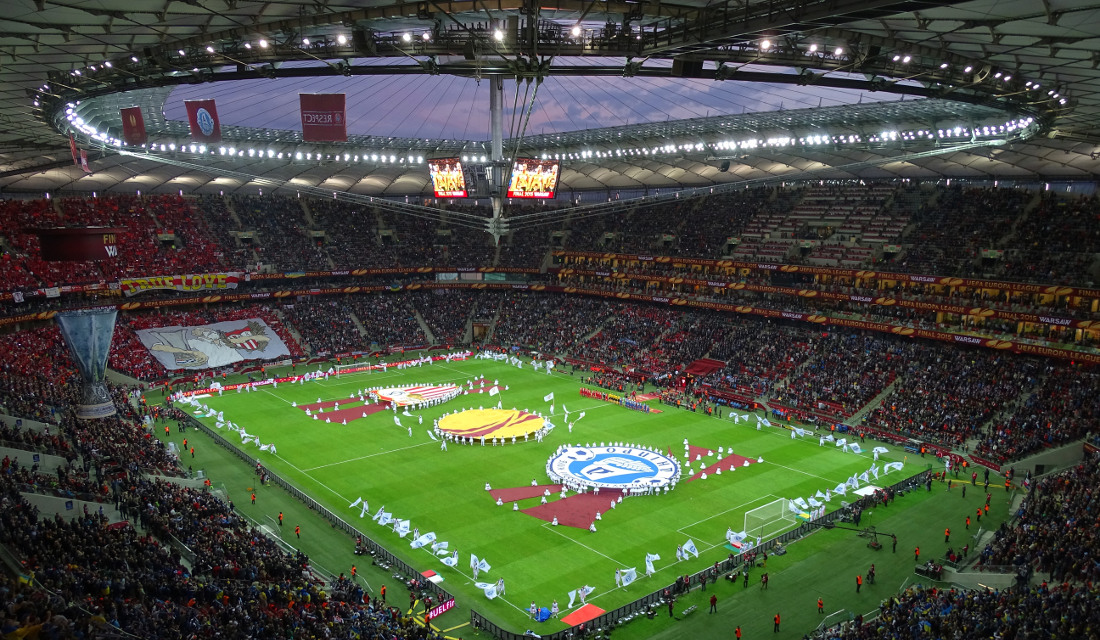 Food Watch
Bar Mleczny Prasowy
Just a 20 minute walk from Lazienski Park was Bar Mleczny Prasowy, thene scene of my final dining experience in Warsaw.
As soon as I walked in I noticed how much more seating available compared to previous milk bars I visited. Furthermore, it was relieving somewhat to see some of the meals on the menu displayed in English.
For lunch I got myself fried chicken fillet with mashed potatoes and had complimentary salad and glass of blackcurrant/raspberry juice. The fillet was tasty and had that slight fillet crunch thrown in there too. I thought the portion sizes of the fillet were going to be longer from my experience eating chicken fillets but what can you do when you're in foreign territory. Altogether it was 20 PLN which I consider is decent value for money.
Overall my Dining experience was generally straightforward. Like Kebab King on day 2 it was user and tourist-friendly.



People Watch
The locals I found were very reserved, much more than Londoners. If you try to open conversation or speak a lot you may be small talk isn't exactly their strongest suit but that shouldn't be mistaken for rudeness or be perceived as them being impolite. It's just that their way of living is different. It's nothing personal they just want to keep to themselves which is fair enough in my opinion. Put it simply, it's a cultural difference. Perhaps buy them a bottle of vodka and they'll open up more 😛 Who knows, you'll be the life of their party
The language was also difficult to grasp so communicating with non-English speaking natives was a huge stumbling block. Google translate and basic sign language bailed me some of the time. The people who spoke English, namely hostel staff and people at attractions and restaurants came across were friendly and helpful when needed.
When I got back to London a lot of black people I know asked about the people there as they had their own reservations on race relations in Poland and attitudes towards tourists. I'm glad to say that I had no real issues with the people whatoever and was treated no differently to anyone else.
Rating out of 10: 7.5 out of 10
Transport Watch
Warsaw is very easy city to get around. A lot of places are within reasonable walking distance so you could walk from one attraction to another if you really fancied it.
Otherwise there's either the bus, metro or tram you can use to get to destinations. I got a 72 hour ticket to last me the whole weekend which cost me 57 PLN and works out to about to a reasonable £11.50/€13. It allowed me unlimited access to all forms of public transport. Rides were quick with plenty of seating available to the public. The journeys on average lasted between 10-20 mins.
Personally I felt like it's one of the places I've explored the most out of any of the cities I've visited before. Even though I spent long enough to do some it's still a big plus for me to take.
I thought I'd discuss about the driving in the city since I've regularly been driving myself from this summer. With my eagle eye I noticed that they drive on the right side of the road as opposed to the left side in the UK so before crossing you have to shift your thinking and looking both ways to exercise caution. The drivers aren't the best, quite a few times I've seen cars nearly run into the back or side of each other. I've also heard similar criticism from travellers over on social media. But then again the driving in London isn't quite stellar either.
Rating out of 10: 8 out of 10

Summary
In summary, I had a pleasant time out in Warsaw. The city is prettier than people give it credit for, particularly at night. As mentioned before it's super easy to get to places. The museums are super cool and cultural to Warsaw and Poland generally speaking. I've also said enough about their quality of food and drink in exaggeration. Pierogi is the real Polish gem!
Although for some reason me it didn't give me that wow factor holidays and trips to a new country usually do. I can't put my finger on it. Other travellers have said the same thing and say they prefer Krakow to Warsaw. Would I visit Poland again? Definitely would, but would have togo to another city like Krakow or Lublin and that would perhaps help me gauge Warsaw better.
Have you visited Warsaw or Poland before? What do you think of the place basked on my three days there? Let me all know your thoughts in the comments below.
My Warsaw content isn't stopping here by the way guys. Still got plenty more experiences and realities of my trip I want to share with you all.
Till the next post – peace XD
Johnny | Johnny's Traventures