Christmas is more or less here and it's a festive time for gathering together with family and close friends and giving and receiving gifts to our loved ones.
You may be wondering what to get for a traveller, other than buying them plane tickets. For travellers the current holiday season is a golden opportunity to enrich future travel adventures for the upcoming year.
Some of their ideal gifts are small and simple and don't even require breaking the bank. Here's 10 gift ideas to invest in for a budding traveller and take their travel experience to the next level:
1. Travel Pillow
Resting on a plane or train, particularly who often travel economy-class, can sometimes leave a lot to be desired in terms of comfort.
The travel pillow doesn't have to be something from Victoria's Secret or John Lewis. A trip to Primark down the high street can have you finding travel pillows of decent quality and provides great cushioning for your neck. Obviously those who suffer from neck problems would want to look for better quality travel pillow. Although unquestionably having a travel pillow in a traveler's luggage would make journeys more relaxing.
2. Travel Diary/Journal
If you know a traveller who's a bit old-fashioned and like writing down their itinerary with pen and paper then perhaps a special travel diary or journal is just what they need. They can use it as a way of thought-tracking and write stories about what they've done on their adventures. It is very subtle and not a hassle in terms of wrapping also.
Reading back on adventures can be fun for them and a future souvenir they can pass on to generations below them that are family.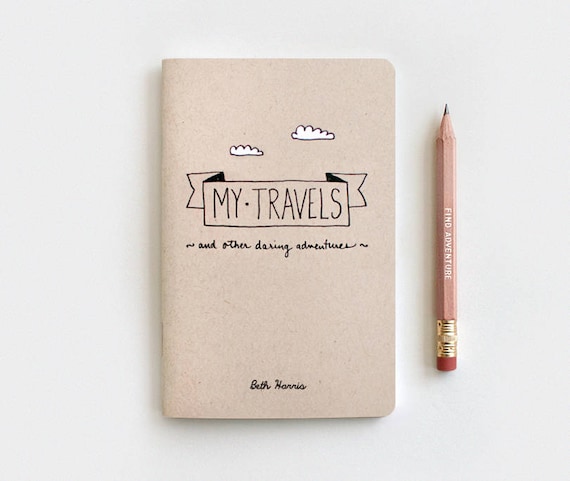 3. Headphones
One that can be quite a popular present to give to a person is headphones. We all appreciate a pair of headphones that we can plug into our devices to shut out all distractions and disturbance and escape. Whether it's for listening to music, a podcast or a Netflix show that's been streamed most of us turn to them in order to maximise our enjoyment and seek some privacy.
I currently possess a pair of Sony MDRZX310 black foldable headphones that I bought from Amazon. They have very good sound quality and ear pads for the price I got it for. As it's implied in the headphone's title. A real solid bargain and I'd struggle to relax on my journeys the way I do when I have them on.
4. New Luggage
Maybe the existing luggage they've got has been battered and bruised from all the travelling they were doing for the majority of the year they need an upgrade, whether they notice or not. Going hitchhiking or backpacking for the first time? Maybe an ultra-light, pocket-heavy travel backpack to set them off their way. Is your traveller into short weekend breaks elsewhere in Europe? Perhaps just a small holdall, duffle bag or another type of carry-on bag would do, enough to squeeze under the tree though 😉
USA Today listed their best travel luggages of 2018 and The Broke Backpacker has a really comprehensive guide on this year's best 15 travel backpacks and how to find the right one for you. Both articles worth a read.
Image Credit: Canva
5. Ear Plugs/Muffs
Drown out those snorers in your hostel and the noise in the airport. Keep ears warm whilst flying at altitude with more ear pieces in the form of pair of ear plugs and ear muffs respectively.
To avoid confusion ear plugs are smaller and lighter and can be put straight into your ear canal. On the other hand, ear muffs fit right over the ears like regular headphones would.
6. Travel-sized bodycare kit
Body maintenance going from skin to hair to dental care becomes more essential and in focus when a traveler goes away on holiday. This is especially the case when they go abroad.
Remember for most UK airports the liquid and gels rule is that liquds and gels over 100ml and not sealed in one plastic bag cannot be taken through security. Having fully equipped with a 100ml or under toothpaste, deodorant, after shave/perfume etc. can save your travel lover, more so female ones, a lot of trouble.
7. Portable Charger
This is hands down one of the biggest essentials many travellers should have. Keep that Android and iPhone powered up without constantly worrying about finding somewhere to charge your phone. Also, avoid potentially breaking the bank!
Like many regular chargers it's easy to slide it into your coat pocket with your phone connected. I bought mine from Amazon at the end of last year's summer and I have been enjoying them since. It has been very reliable, long-lasting in terms of battery life and the amount of charges. This is not mentioning the fact that I've used two powerful smartphones whilst I've had it.
8. Professional Camera
This is probably the most costly item on this list. You can inspire a traveller to get one foot into photography with a professional camera. It gives travellers a chance to capture those amazing, unforgettable travel experiences in high-quality with the luxury of using various features you wouldn't have with a camera on a smartphone.
For travel creatives particularly, being able to work the camera both in front and behind it can be very handy and rewarding when creating content. Being multi-skilled in areas and niches that tend to cross over can make you more independent.
9. A World Map
Help them plan their next journey and visibly visualise their road to culture dominance (Sorry Jess!) with a world map. There's a wide range in the types of world maps you can get. Examples are glow-in-the-dark ones, food-themed maps and scratch off world maps.
Some maps can even be personalised to one's liking and can make for good wall art in their bedroom too if they feel like doing a bit of redecorating for the new year. To be honest I'm astonished that I don't see many traveler speak of having a world map, even as a souvenir and with Google Maps being very popular with millenial travellers, but call me old-fashioned.
10. Wallet/Money Belt
The final gift you can add to your Christmas list is a wallet. A wallet specifically for travelling would help them be more organised for trips. I  recently got a new wallet from my mum, however, I had already had a wallet and wasn't on the hunt for one. Although it turned out to be useful as I realised I could use it as a travel wallet and have a safe place where I can store my credit and debit cards and keep them out of reach from thieves.
Alternatively there's the option to go extra on the security department and invest in a money belt for them. A money belt enables them to store bigger possessions such as passports, earphones and keys. Regardless of which you get, wrapping won't be a hassle.
What are your thoughts on these 10 gift ideas? Have you got any other travel gifts you can suggest for a traveller? Leave them in the comments below. Stay updated with more content coming through by following my blog and on socials linked below.
Till next time – Adios!
Johnny | Johnny's Traventures